Kyle emailed in last week and shared some information and history on his 1988 Mustang. Based on all the information he provided in the end, this appears to be one of the first original DECH cars built. Some of you may ask why does it have a SALEEN body kit and wing? Well, in 1987-1988 DECH used SALEEN kits prior to offering their own. DECH even supplied pit crew help to Steve Saleen way back in the day! It wasn't until 1989 when DECH launched it's own wind tunnel tested aero kits which were launched at the Toronto Auto Show. In the DECH registry section, DECH 011 was a twin to this car moreover, DECH 005 which was later converted to have the DECH areo kit installed (validated by Peter Hanson) Finally, you will also notice the original DECH pamphlet featured a Saleen body kit before introduction of their own kits as advertised in the consumer orientation releases.
So back to story: Kyle's car had a nice long life with it's original owner of 27 years however towards the end of his ownership the car was involved in a pretty bad accident which left the car irreparable by the insurance company. After 5 years of storage, the original owner then decided to sell the car to a scrap yard where Kyle's father works as he did not have the space or funds to fix the car. The original owner was very reluctant on this decision as he had a lot of memory's which is why he kept the rims,shift knob and steering wheel upon selling the car off for an amount I will not disclose.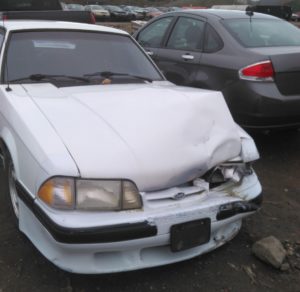 When the scrap yard got the car Kyle and his Father took on the project not knowing much about the car besides normal foxbody information they found on google. Kyle then decided to reach back out to the original owner and asked him for more details. He was quickly enlightened that it was in fact a DECH Mustang witch he bought new back in 88. He was even nice enough to give Kyle the original DECH pamphlet and shared all of the service records from over the years. Kyle then quickly realized he had scored himself a gem and a true piece of Canadian Motorsport History. He even managed to score back the original wheels from the owner as he had kept them before selling the car off.
Other than the accident the car was never winter driven and had 0 rust anywhere which is a hard thing to find north of the border in Canada. Kyle and his Father started fixing the car which in the end wasn't too much work stating that all the car needed was a rad support, a few body panels such as fender, hood and front bumper cover. This with a little bit of TLC and fresh coat of paint completely revived this car. They decided to paint the car all white, tinted the windows and re-covered the aged Recaro seats.
Saleen body kit and Wing
Simmons 3 piece wheels
Koni Adjustable Shocks
Recaro Seats
Momo Wheel (original owner kept)
DECH Nylatron shift knob (original owner kept)
DECH G Load brace
For some reason the car currently has Eibach springs which may have been changed at some point. We are hoping that Kyle does pick up one of the newer shift knobs to replace the one that was kept, and most importantly that he enjoys this beautiful 1988 DECH Mustang.